Marcin Majchrowski - NOSPR
Marcin Majchrowski
Compere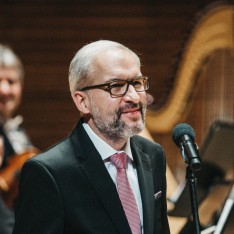 photo by Teresa Grotowska
Musicologist and music journalist, he has worked for Polish Radio Channel 2 since 1993. Author and co-author of long-running radio programmes such as Joseph Haydn's 104 symphonies, Romanticism – known or unknown? Karłowicz – en exalter of modernist melancholy and the Guide to Gustav Mahler's symphonies.
He has collaborated with the International Henryk Wieniawski Violin Competitions since 1996. He also works for other music institutions in Poland and writes for the national and international press.
Recipient of the Golden Microphone Award in 2010.