Subscription - NOSPR
Subscription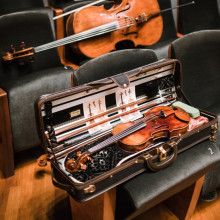 Subscription concerts have been the hallmark of the Polish National Radio Symphony Orchestra and its activity for decades. This is the flagship concert series of the ensemble, which thoroughly presents its symphonic concert repertoire and grand vocal-instrumental forms. Each concert is an occasion to meet prominent conductors and excellent soloists.
The Box Office
Plac Wojciecha Kilara 1, 40–202 Katowice
e-mail: kasa@nospr.org.pl
tel: +48 32 73 25 312 or 32O
Subscribers bonuses
Subscription S1, S2 lub S3
Subscription Silver (2 subscriptions)
Subscription Gold (3 subscriptions)
Buying priority and 10% discount for selected concerts*
10% discount for main dish in Cadenza Restaurant
Księgarnia Bookiestra - 10% zniżki na książki i 5% zniżki na płyty
Roczna książka programowa w prezencie
Zaproszenia na otwarte próby NOSPR**
Zaproszenie na specjalny koncert kameralny dla posiadaczy abonamentów*
* Information about other events, priority of purchasing tickets and special offers is sent via e-mail. Therefore, interested persons are requested to leave their contact details at the ticket office and agree to their processing.