Subscription - NOSPR
Subscription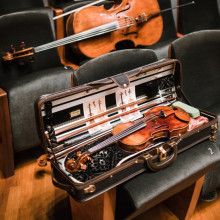 Subscription concerts have been the hallmark of the Polish National Radio Symphony Orchestra and its activity for decades. This is the flagship concert series of the ensemble, which thoroughly presents its symphonic concert repertoire and grand vocal-instrumental forms. Each concert is an occasion to meet prominent conductors and excellent soloists.
NOSPR Subscription: Embrace the Whole Season!
The sale of new subscriptions for the 2023/2024 season will commence on August 17, 2023.
For the first time in nearly 90 years of NOSPR's history, a woman – Marin Alsop – will take the position of artistic director, dazzling from behind the conductor's podium! Simultaneously, in the upcoming season, musicians will be led by almost all the artistic directors of the past 40-years, returning to the most important works of the symphonic repertoire that will enchant every music lover.
All flagship NOSPR concerts under the baton of guest and collaborating conductors, featuring esteemed soloists, can be purchased as part of the subscription for the 2023/2024 season starting from August 17.
Join the NOSPR Community
We regard NOSPR subscriptions not only as a regular entry to cyclical concerts but also as an entry into a community that meets regularly and shares its reflections – co-creating NOSPR.
Privileges – What Does the Subscription Offer You?
Up to 30% discount on regular ticket prices for concerts included in the subscriptions. Discounts at affiliated institutions. Opportunity to participate in pre-concert lectures and other dedicated events. Special privileges for Gold and Silver subscription holders, including a 30% discount on selected chamber concerts! Upon subscribing, you can immediately access the option to purchase tickets for all published concerts of the 2023/2024 season during the pre-sale, which will also start on August 17. Check the full list of privileges in the Subscriptions section on the NOSPR website.
What's Included in the Subscription?
Symphonic concerts by NOSPR under the baton of guest and collaborating conductors, featuring esteemed soloists. Subscription concerts are the institutional program's backbone and a reference point for our activities.
Who Is It For?
For the wonderful listeners who have built a strong community around NOSPR over the years and those who would like to expand its circle. For those sensitive to beauty, ready to discover new repertoire and evoke the well-known.
Is It Worth It?
Subscription holders enjoy discounts of up to 30% off regular ticket prices, as well as discounts on books, magazines, and CDs. They can choose their permanent seat in the audience and take part in events dedicated to them. The NOSPR brand is built not only by musicians but also by you, our listeners – the artists who regularly speak warmly of our venue. Without a doubt, it's worth joining the NOSPR community!
Our symphonic subscription concerts are divided into three series:
S1 – a series of nine Thursday concerts preceded by lectures, always in the concert hall, at 7:30 PM.
BUY A SUBSCRIPTION
S2– a series of nine concerts, also preceded by spoken commentary, taking place at 7:30 PM in the concert hall, but on Fridays.
BUY A SUBSCRIPTION
S3 – nine Sunday symphonic mornings at noon.
BUY A SUBSCRIPTION
We also invite you to explore the program of special concerts, events that will complement the subscription series and expand the repertoire with additional themes. Subscription holders will have the exclusive opportunity to purchase tickets for these events during the pre-sale – Special Concerts Calendar.
Which Subscription to Choose?
The Basic, Silver, Gold subscription, or perhaps our "invention" of this year, aimed at children and young people, who are just entering the concert life – the Young Music Lover Subscription?
Discover all the possibilities:
Basic subscription includes all 9 concerts of one chosen series (Thursday, Friday, or Sunday).
Silver subscription is for those interested in attending concerts from two series (18 concerts).
Gold subscription is offered to those who want to experience the full range of concert experiences (27 concerts, 3 subscription series).
Young Music Lover Subscription – this year's "innovation," aimed at potential music lovers – children and young people who are just entering the concert scene. This package covers concerts from the S3 series and can be purchased for individuals aged 7–15. Parents or guardians who hold an S3 subscription for the 2023/2024 season are eligible to purchase it. Young Music Lover Subscription is available until the limit of seats is reached, and its price is 20% lower than the discounted subscription price.
More Accessible Subscription – to ensure that our offerings are available to everyone without barriers, we have prepared a special offer for individuals with mobility impairments. This subscription can be purchased with a 50% discount from the regular price. Both the person with mobility impairment and their accompanying person can benefit from this discount. NOSPR also provides assistance with concert attendance. Designated spaces for wheelchair users and their companions are located in the first price zone. We allocate half of these spaces for subscriptions, so the number of spots is limited.
Concession Subscription – available for retirees, pensioners, students up to 26 years old, and individuals awarded the Medal for Merit to Culture – Gloria Artis.
Explore all the possibilities – NOSPR Subscriptions.
Dates:
August 17, 2023 – Announcement of the NOSPR program for the 2023/2024 season.
August 17 – September 1, 2023 – Sale of new subscriptions and pre-sale of tickets for the 2023/2024 season concerts for subscription holders.
September 5, 2023 – General sale of tickets for the 2023/2024 season concerts.
Terms and regulations for the sale of subscriptions for the 2023/2024 season: available soon
The Box Office
Plac Wojciecha Kilara 1, 40–202 Katowice
e-mail: kasa@nospr.org.pl
tel: +48 32 73 25 312 or 320
Subscription
S1
Thursdays, 9 concerts
Subscription
S2
Fridays, 9 concerts