NOSPR Available - NOSPR
Season 22/23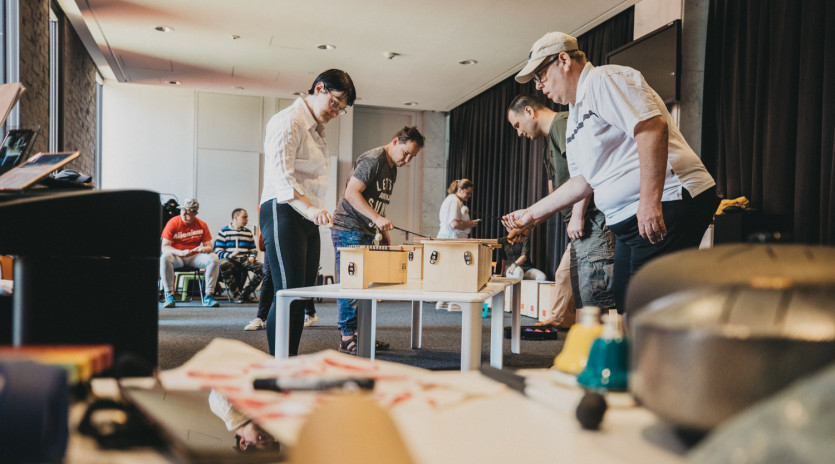 The aim of the "NOSPR Accessible" project is to widely share the existing programmatic offerings of NOSPR (Polish National Radio Symphony Orchestra), enrich the offerings with new, high-quality artistic events dedicated to individuals with special needs, and raise awareness of NOSPR's accessibility within broader circles. As a national institution of culture, our goal is to provide a rich, diverse, and engaging range of experiences to all interested parties and to create the best possible conditions not only for participation in events but also for social integration.
This is the most essential part of our mission, which we carry out and develop in collaboration within the ECHO network as well.
Feeling responsible for continuously expanding the audience, being aware of the significance of cultural heritage and the multifaceted positive impact of music, we take all possible actions to neither neglect nor exclude anyone from our concert halls and programs. We actively work on understanding the surrounding communities and their needs, striving to become a more conscious, useful, and welcoming institution.
Following the "baby steps" approach, we enrich our offerings, train, test new solutions, and learn to design universally, incorporating technical solutions from the very inception of artistic ideas, making it possible for as many people as possible to benefit from our offerings.
The project includes:
Open rehearsals and concerts (aimed at children, youth, seniors, and individuals with special needs for whom participation in such events is possible).
Sensory-friendly concerts "Pianissimo" (a concert series in collaboration with the Piano Department of the Academy of Music in Katowice featuring specially curated repertoire and stage setup: subdued program, dimmed lights, limited stimuli).
Music workshops for individuals with visual impairments and blindness, where the dominant senses are hearing and touch, according to scenarios and instruments specially prepared for such events.
Workshops for individuals with hearing impairments.
Expert training and consultations.
Yoga - music-relaxation sessions. We invite you to watch a preview of the material - teaser. Join us for a music-relaxation session where yoga is combined with music by the Orchestra of New Music.
Sensory walks - guided tours around the NOSPR building.
The project is funded by the Ministry of Culture and National Heritage from the Promotion of Culture Fund – a state-special-purpose fund.