Vivi Vassileva - NOSPR
Vivi Vassileva
Percussion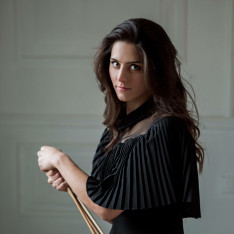 photo by Adriana Yankulova
Born in Germany into a family of Bulgarian musicians, Vivi Vassileva began her musical studies on the violin with her father, but on hearing a group of folk artists on Karadere beach on the Black Sea coast she was immediately inspired to take up percussion. It was these colourful and exotic Balkan rhythms which moulded her into the multifaceted musician she has become and which continue to influence her classically trained style. Admired for her innovative programming style, she offers new ways for audiences to become acquainted with her instruments and her craft, be it in story-telling with renowned Austrian author Michael Köhlmeier regaling tales of popular sports legends, or pioneering environmental projects with percussion instruments made from recycled materials.
She makes regular performances alongside recital partners including Kian Soltani, Frank Dupree, Pablo Barragán and guitarist Lucas Campara Diniz as well her self established percussion ensemble Extasi Ensemble including at the Berlin Philharmonie, the Schleswig-Holstein Music Festival, Snape Maltings, March Music Days in Ruse, Elbphilharmonie in Hamburg and the Salzburg Festival.
She began her formal training at the age of ten with Claudio Estay and after winning First Prize at the national competition Jugend Musiziert in Germany she entered the National Youth Orchestra of Germany as youngest member. More successes followed including prizes at international marimba competitions in Paris 2009 and Nuremberg 2010, the Ingolstadt Music Cultivation Prize 2013 and two Special Prizes as the youngest semi-finalist at the prestigious ARD Music Competition in 2014.
At 16 she was accepted into the Hochschule für Musik und Theater in Munich, where she completed her Bachelor of Music under Raymond Curfs and Peter Sadlo. She is currently studying part time at the Universität Mozarteum Salzburg under Martin Grubinger. She received the Kulturkreis Gasteig Musikpreis 2016 for her own composition and arrangement of the Bulgarian Folk Song 'Kalino Mome'. In 2017 she was awarded the Bayerische Kunstförderpreis. In 2019 she signed an exclusive record deal with Outhere Music France for their Alpha Classics label. Her debut album release Singin' Rhythm features works by Guillo Espel, Eric Sammut, Oriol Cruixent and Keiko Abe, most of them premiere recordings, alongside some rarely heard or premiere arrangements and compositions by Vivi Vassileva herself. Selected for the Vienna Konzerthaus' Great Talent scheme from 2019/2020–2021/2022 and as a Junge Wilde at the Dortmund Konzerthaus from 2021/2022 to 2023/2024, Vivi Vassileva is poised on the threshold of a major performing career and promises to be an artist that will take audiences with her as she explores and pushes the boundaries of the percussion world. Besides her brilliant technique, athleticism and astonishing virtuosity, she brings an exceptional musicality and poetic expression to her performances.
She has already played as a soloist with the following orchestras: Gürzenich Orchester Köln, Wiener Symphoniker, Britten Sinfonia, Wiener Kammerorchester, Sinfonieorchester Wuppertal, Sinfonieorchester Hagen, Hofer Symphoniker, Nürnberger Symphoniker, Wiener Jeunesse Orchester, Bayerisches Landesjugendorchester, Neue Philharmonie München, Sofia Solisten, Baltic Neopolis Orchestra, Philharmonie Südwestfalen, Württembergische Philharmonie Reutlingen, Sinfonieorchester Liechtenstein.