Vasco Trilla - NOSPR
Vasco Trilla
Percussion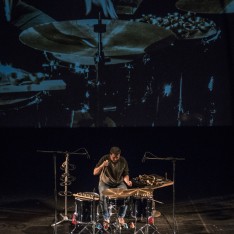 Is one of the most active, versatile and creative drummers of the Barcelona scene. He has recorded more than 60 albums ranging from free improvisation, jazz rock to progressive rock metal and ambient music. He is a musician with a wide experience – most of his career has been developed internationally, especially on the Polish, Dutch and Portuguese scene. The key attributes of his success seem to consist of the three factors: imagination, cross-genre experience in performing music and the constant search for expanding the limits of the instrument. In the recent years he has become one of the most solid and in-demand voices of the European free improvised scene.

He has released albums in Clean Feed Records, Cuneiform Records, No Bussiness, Not Two,Astral Spirits, Klopotec,Fmr records, Fundacja Sluchaj, Multikulti, Creative Sources....

He has played with Mikolaj Trzaska, Mars Williams, Marshall Allen, Lotte Anker, Martin Kuchen, Susana Santos Silva, Kaja Draksler,Jasper Stadhouders, Ernst Glerum, Rodrigo Amado Peter Evans..among many others.

www.vascotrilla.com