Thomas Dunford - NOSPR
Thomas Dunford
Lute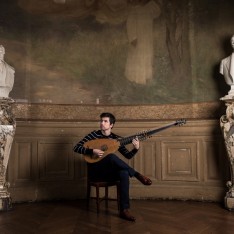 photo by Julien Benhamou
Born in Paris in 1988, Thomas Dunford discovered the lute at the age of nine, thanks to his first teacher Claire Antonini. He completed his studies in 2006 at the Conservatoire de Paris (CRR), when he obtained a unanimous 1st Prize with honors in the class of Charles-Édouard Fantin.
Thomas Dunford continued his studies at the Schola Cantorum Basiliensis with Hopkinson Smith, and participated in several master classes with artists the caliber of Rolf Lislevand and Julian Bream, and in workshops with Eugène Ferré, Paul O'Dette, Pascale Boquet, Benjamin Perrot and Eduardo Egüez. He was awarded his Bachelor's degree in 2009.
From September 2003 through to January 2005, Thomas gave his first performances playing the role of the lutenist in Shakespeare's Twelfth Night on stage at the Comédie française. Since then, Thomas has played recitals in New York's Carnegie Hall and Frick Collection, London's Wigmore Hall, the John F. Kennedy Center for the Performing Arts, the Vancouver Recital Society, Cal performances at Berkeley, the Banff Centre for Arts and Creativity, the Palau de la Música Catalana in Barcelona, the festivals of Saintes, Utrecht, Maguelone, Froville, TAP Poitiers, WDR Cologne, Radio France Montpellier, Saffron Hall. He made numerous solo or ensemble appearances in the most prestigious European festivals including Ambronay, Arc La Bataille, Bozar, La Chaise-Dieu, Nantes, Saintes, Utrecht and many others. He has also performed further afield in England, Scotland, Ireland, Spain, Germany, Austria, Norway, Belgium, Netherlands, Switzerland, Poland, Hungary, Romania, Estonia, Czech Republic, Bresil, Colombia, Chili, Mexico, United States, Israel, China, Japan and India.
Thomas Dunford' first solo CD Lachrimae recorded for the French label Alpha in 2012, was unanimously acclaimed by critics and was awarded the Caecilia prize of 2013, BBC Magazine calling him the "Eric Clapton of the lute". His second CD Labirinto d'Amore was awarded the « Choc » from Classica magazine.​
Thomas Dunford is regularly in demand, playing a variety of early plucked string instruments with the ensembles Les Arts Florissants, Akadêmia, Amarillis, Les Ambassadeurs, Arcangelo, La Cappella Mediterranea, Capriccio Stravagante, Le Centre de Musique Baroque de Versailles, La Chapelle Rhénane, Clematis, Collegium Vocale Gent, Le Concert Spirituel, Le Concert d'Astrée, A 2 Violes Esgales, The English Concert, Ensemble Baroque de Limoges, Ensemble La Fenice, Les Folies Francaises, the Irish Baroque Orchestra, Marsyas, Les Musiciens du Louvre, Les Musiciens du Paradis, Les Musiciens de Saint Julien, Les Ombres, Pierre Robert, Pygmalion, La Sainte Folie Fantastique, Scherzi Musicali, La Serenissima, Les Siècles, the Scottish Chamber Orchestra, La Symphonie du Marais.
Thomas Dunford is attracted to a wide variety of music including jazz, and collaborates in chamber music projects with conductors and soloists Paul Agnew, Leonardo García Alarcón, Nicola Benedetti, Keyvan Chemirani, William Christie, Jonathan Cohen, Christophe Coin, Iestyn Davies, Lea Desandre, Isabelle Faust, Bobby McFerrin, Philippe Herreweghe, Monica Huggett, Alexis Kosenko, Anne Sofie von Otter, Trevor Pinnock, Patricia Petibon, Sandrine Piau, Anna Prohaska, Hugo Reyne, Anna Reinhold, Jean Rondeau, Skip Sempé, Jean Tubéry.