The Naghash Ensemble - NOSPR
The Naghash Ensemble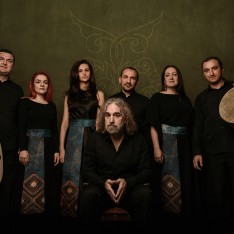 photo by David Galstyan
The Naghash Ensemble combines the earthy spirituality of Armenian folk song, new classical music, and contemporary post-minimalism with the energy of rock and jazz. Three brilliant female vocalists and some of Armenia's finest instrumentalists on duduk, oud, dhol, and piano play new music based on sacred texts by the medieval Armenian mystic poet and priest, Mkrtich Naghash.
Written by Armenian-American composer John Hodian, The Naghash Ensemble's Songs of Exile is a profound meditation on man's relationship to God from the perspective of a monk forced to live in exile for many years. Part folk music, part classical, and profoundly moving.
The Naghash Ensemble's first CD, forming the first volume of the three-volume project Songs of Exile, was published in 2014, followed by the ensemble's first international tour. The second CD Songs of Exile, Volume II: Credos & Convictions followed in 2016. The third CD Songs of Exile, Volume III: Lamentations & Benedictions was released in late 2019.
Since 2014, the ensemble has been touring regularly in Europe, including performances in France, Belgium, The Netherlands, Germany, Austria, Switzerland, Italy, Latvia, Lithuania, and Armenia.The ensemble plays at classical music venues, sacred music festivals, world music series as well as rock and jazz festivals.
Their concerts have been described as "a moment of grace and meditation"(Rolling Stone), "[a] sacred beauty that incites a mixture of joy and ecstasy" (Trans Musicales), and "music that is foreign and familiar, earthy and otherworldly"(WDR 3).