Szymon Bywalec - NOSPR
Szymon Bywalec
Conductor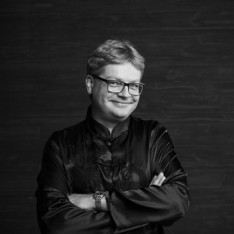 photo by Izabela Lechowicz
Szymon Bywalec has graduated with distinction in symphony and opera conducting from the class of Jan Wincenty Hawel at the Music Academy in Katowice, where he currently teaches at the Composition, Conducting and Music Theory Department. Between 2006 and 2013, he was artistic director of the Karol Szymanowski Academic Symphony Orchestra in Katowice.
He has worked with leading conductors such as Krzysztof Penderecki, Gabriel Chmura, Takuo Yuasa, Arturo Tamayo, Jacek Kaspszyk, and Paul McCreesh. He is also a graduate of the Music Academy in Cracow, where he studied the oboe with Jerzy Kotyczka. As a scholarship holder at Siena's Accademia Musicale Chigiana, he has perfected his skills in the class of Gianluigi Gelmetti (2001) and Lothar Zagrosek (2002, diploma with honours).
He has also participated in conducting masterclasses run notably by Gabriel Chmura, Kurt Masur, Zoltán Peskó, and Pierre Boulez. He is the permanent conductor of the New Music Orchestra, which he has directed at various modern music festivals including Warsaw Autumn, Wrocław's Musica Polonica Nova and Musica Electronica Nova, Poznań Music Spring, Bratislava's Melos-Ethos, Lviv's Velvet Curtain 2, Paweł Szymański Festival in Warsaw, Beijing Modern, and the Hindsgavl Festival in Denmark. During Warsaw Autumn 2005, he worked with IRCAM and soloists of the Court-circuit Ensemble on Boulez's Répons. From 2011 he has sat on the programme committee of Warsaw Autumn Festival, and became director of the Musica Polonica Nova festival in 2013.