Patrick Vogel - NOSPR
Patrick Vogel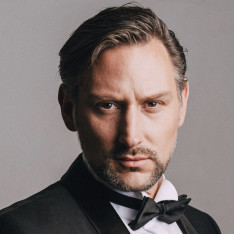 Tenor Patrick Vogel was born in Berlin.
He was a member of the Leipzig Opera Ensemble where he sang Flamand (Capriccio), Erik (Flying Dutchman), Alfredo (La traviata), Narraboth (Salome), Principe (Rusalka), Jeník (The Bartered Bride), Tamino (The Magic Flute), Pang (Turandot), Elemer (Arabella), Walther von der Vogelweide (Tannhäuser), The Painter/Negro (Lulu), with Lotte de Beer as director.
At the Semperoper Dresden, he performed Graf Elemer (Arabella) and Walther von der Vogelweide (Tannhäuser).
At the Salzburg Easter Festival, he made his debut in 2019 as Eisslinger (Meistersinger) conducted by Christian Thielemann and as Third Jew (Salome) conducted by Franz Welser-Möst and staged by Romeo Castellucci.
In Italy, he has performed at the Teatro Carlo Felice in Genoa as Don Ottavio (Don Giovanni) and Narraboth (Salome) under the direction of Fabio Luisi; recently in Salomé (3rd Jew) directed by Damiano Michieletto at the Teatro Scala with Riccardo Chailly for streaming during the Covid pandemic and with Axel Kober (2023), as well as at the Petruzzelli in Bari under the direction of Hartmut Haenchen.
Patrick Vogel has collaborated with internationally acclaimed conductors as diverse as Daniel Barenboim, Marco Armiliato, Carlo Rizzi, Lothar Zagroszek, Ingo Metzmacher, Ulf Schirmer, Daniele Gatti, Philippe Jordan, Asher Fisch, and Dan Ettinger.
His concert repertoire includes Bach's St Matthew Passion and Verdi's Requiem.
He is fluent in German, Italian, English and French.