Orchestre des Champs-Élysées - NOSPR
Orchestre des Champs-Élysées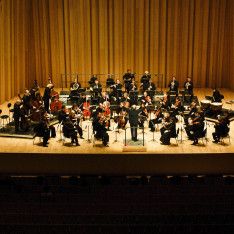 photo by Joscelin Renaud
The Orchestre des Champs-Élysées is devoted to the performance of music written from the mid XVIII to the early XX centuries (Haydn-Mahler) played on the instruments that existed during the composer's lifetime.
For several years, the Orchestra has been in residence at the Théâtre des Champs-Élysées in Paris and the Palais des Beaux-Arts in Brussels, performed in almost all the major concert halls such as the Musikverein (Vienna), the Concertgebouw (Amsterdam), the Barbican Centre (London), Alte Oper (Frankfurt), the Philharmonic Halls in Berlin and Munich, the Gewandhaus (Leipzig), the Lincoln Center (New York), Auditorium Parco della Musica (Rome) and the Auditoriums of Dijon and Lucerne. The orchestra also toured Japan, Korea, China, and Australia.
Philippe Herreweghe is the artistic director and principal conductor, but the orchestra played under several guest conductors, among them Daniel Harding, Christian Zacharias, Louis Langrée, Heinz Holliger, Christophe Coin, and René Jacobs.
The Orchestre des Champs-Élysées feels passionate about offering an innovative approach to music and therefore, at each one of its concerts it offers the possibility of public rehearsals, conferences, or meetings and workshops with classes of school children.
The Orchestre des Champs-Élysées, partner of the TAP – Théâtre Auditorium de Poitiers, is funded by the French Ministry of Culture and the government of the Poitou-Charentes region.
The Orchestra's extensive discography includes Mozart's Requiem, Mass in C minor, Beethoven's Missa solemnis, Ninth Symphony, complete works for violin and orchestra, A German Requiem by Brahms, Mendelssohn's Elijah, Paulus, Midsummer Night's Dream, Schumann's Scenes from Goethe's Faust, Cello Concerto, Symphonies, Berlioz's L'enfance du Christ, Les nuits d'été, Requiem by Fauré, Bruckner's 4th, 5th & 7th Symphonies, Mass No. 3, Mahler's Des Knaben Wunderhorn, Symphony No. 4.