Nelson Freire - NOSPR
Nelson Freire
Piano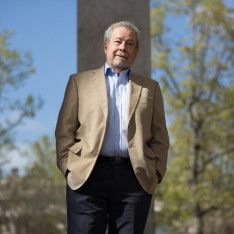 Born in Boa Esperança, a small town in the interior of the state of Minas Gerais (Brazil), Nelson Freire is now a universally acclaimed artist. He has received honours and decorations in numerous countries, and regularly collaborates with top class orchestras, conductors, and recital halls worldwide. He has signed an exclusive contract with DECCA and his regular recordings have led him to explore the works with a deeper insight and unique creative power.
Still humble, Freire moved at the age of five to Rio de Janeiro when his parents, impressed by the precocious talent of their son, moved the whole family to the city in search of better music teaching conditions to great fruition. Under the guidance of two outstanding teachers, Nise Obino and Lucia Branco, the young Nelson, aged only fourteen, could already be considered a great master of the piano.
At the age of twelve, as finalist at the first International Piano Competition of Rio de Janeiro, he received a grant from Brazilian president Juscelino Kubitschek and went to study in Vienna under Bruno Seidlhofer, teacher of Friedrich Gulda. At age nineteen, Freire was awarded the Dinu Lipatti Medal in London and later won 1st Prize at the International Vianna da Motta Competition in Lisbon, which earned him a contract with the agency Conciertos Daniel in Madrid. He then toured most of South America and Spain.
At the age of twenty-three for his London début, he made a sensation when The Times called him "The young lion of the keyboard". The following year, after his New York debut performance with the New York Philharmonic, Time Magazine hailed him as "One of the most exciting pianists of this or any age".
From then on and for five decades, Nelson Freire has performed in over seventy countries and become a star in the international music world. His recordings have been rewarded with the Diapason d'Or, Grand Prix du Disque, Victoire d'Honneur, Edison Award, Gramophone Award and a Latin Grammy for the album "Nelson Freire Brasileiro" in 2013.
He has been the recipient of the most prestigious decorations: Citizen of Rio, Knight of the Order of Rio Branco, Chevalier de la Légion d'Honneur, Commandeur des Arts et des Lettres, Medal Pedro Ernesto, Medal of the City of Paris, Medal of the City of Buenos Aires and doctor honoris causa from the Music School of the Federal University of Rio de Janeiro.
Nelson Freire has performed with many of the world's major conductors, such as Valery Gergiev, Yuri Temirkanov, Seiji Ozawa, Pierre Boulez, Riccardo Chailly, Charles Dutoit, Eugen Jochum, André Previn, Lorin Maazel, Rudolf Kempe, Rafael Kubelik, David Zinman, Kurt Masur and Sir Colin Davis. He has appeared with the greatest orchestras: the Philharmonics of Berlin, London, New York and Israel, as well with the Amsterdam Concertgebouw, the Leipzig Gewandhaus and the orchestras of Munich, Paris, Tokyo, and St. Petersburg including the Mariinsky - Vienna, Boston, Philadelphia, Cleveland, Los Angeles, Chicago and Montreal.
Several extracts from his concerts can be seen in the 2003 acclaimed documentary "Nelson Freire: a Man and his Music", directed by João Moreira Salles. Recent releases include: Chopin Piano Concerto No. 2 & Balade No. 4, Berceuse Polonaise (2015); Rachmaninoff The Complete Works (2014); Beethoven Piano Concerto No. 5 & Piano Sonata Op. 111 (2014); Radio Days: Concerto Broadcasts 1968-79 (2014); Brasileiro (2012).
He is regularly invited to be a member of the jury for the most prominent piano competitions such as the Chopin, Tchaikovsky and Van Cliburn.
Fluent in several languages, Nelson Freire has made his home in Rio de Janeiro, his city of predilection, where he returns regularly between tours.