Mateusz Zajdel - NOSPR
Mateusz Zajdel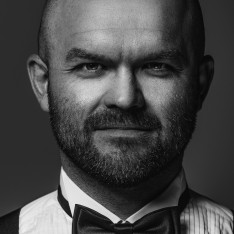 photo by Bartek Syta
Graduate of the Department of Vocal and Acting Studies at the Chopin University of Music in Warsaw. He has regularly honed his skill with such teachers as Roman Węgrzyn, Kaludi Kaludov, Helena Łazarska, Ryszarda Karczykowski and Jagna Sokorska. From 2008 to 2017, he was a soloist of the Warsaw Chamber Orchestra, and he is currently a permanent collaborator of the Polish Royal Opera.
Furthermore, he works with the Silesian opera in Bytom, the Baltic Opera in Gdańsk, and, for over ten years now, with the Grand Theatre National Opera. He has participated in numerous productions, including G. Donizetti's Lucrezia Borgia and Lucia di Lammermoor, G. Verdi's Traviata, Don Carlos and La forza del destino, G. Puccini's Turandot and Madama Butterfly, R. Wagner's Flying Dutchman and Lohengrin, P. Tchaikovsky's Iolanta, M. Mussorgsky's Boris Godunov, G. Rossini's William Tell and S. Moniuszko's Haunted Manor. In addition to operatic roles, his repertoire includes opera and operetta arias, tenor parts from oratorio-symphonic works, and lieder.
He has performed with such ensembles as the Polish National Radio Symphony Orchestra in Katowice, Polish Radio Orchestra in Warsaw, National Philharmonics Orchestra, Beethoven Academy Orchestra, Slovak State Philharmonic Košice, L. Janaček Philharmonics in Ostrava. Moreover, he has participated in productions by foreign theatres, such as the Opera di Firenze, Badisches Staatstheater Karlsruhe and La Monnaie in Brussels.