Sinfonia Iuventus - NOSPR
Sinfonia Iuventus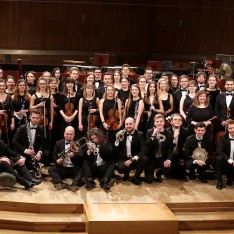 photo by Jacek Barcz/Marek Druszcz
The Polish Sinfonia Iuventus Orchestra was founded on the initiative of Jerzy Semkow, one of the most prominent Polish conductors. Established by the Minister of Culture and National Heritage with a decree of 1 October 2007, it is a state artistic institution, the guiding principle of which is to give young musicians an opportunity for an orchestral debut and prepare them to work in similar professional ensembles. The Orchestra is composed of the most talented graduates of art music academies under 30 years of age.
Sinfonia Iuventus began its artistic activity in June 2008. It has worked with many renowned conductors, including Jerzy Semkow, Kazimierz Kord, Jan Krenz, Krzysztof Penderecki, Gabriel Chmura, Antoni Wit, Tadeusz Strugała, John Axelrod, Charles Dutoit, Agnieszka Duczmal, Nicolae Moldoveanu, Juozas Domarkas, Grzegorz Nowak, Jerzy Maksymiuk, Michaił Jurowski, Tadeusz Kozłowski, Andrzej Boreyko, Marek Pijarowski, Mirosław Jacek Błaszczyk, Jerzy Salwarowski, Evgeny Volynsky, Gerd Schaller, Eugene Tzigane, Massimiliano Caldi, Andriy Yurkevych, Marcin Nałęcz-Niesiołowski, Łukasz Borowicz, and soloists, including Konstanty Andrzej Kulka, Piotr Paleczny, Ivan Monighetti, Zakhar Bron, Krzysztof Jakowicz, Aleksandra Kurzak, Roberto Alagna, Tatiana Szebanowa, Janusz Olejniczak, Jonathan Plowright, Abdel Rahman El Bacha, Eugen Indjic, Krzysztof Jabłoński, Olga Pasiecznik, Jadwiga Rappé, Vadim Repin, Jan Stanienda, Tomasz Strahl, Alena Baeva, Leszek Możdżer, Yulianna Avdeeva, Agata Szymczewska, Jakub Jakowicz, Piotr Pławner, Patrycja Piekutowska and Łukasz Kuropaczewski to mention just the few of them.
The Orchestra has made a number of albums, radio and television recordings for Universal Music, CD Accord, DUX, Polish Radio, Albany Records, TVP Kultura and Warner Classics. A special place in the Orchestra's discography belongs to two albums with a symphonic repertoire: Schubert (2008) and Czajkowski (2010), recorded under the baton of Jerzy Semkow. An important position is also occupied by albums with music by Krzysztof Penderecki under his direction – the complete symphonies (2010–2012) and albums with solo concerts (2014–2019). Selected recordings in the series have been honoured, including the International Classical Music Award (2014 and 2016), Fryderyk Award in Concerto Music Album category (2021). The program of the new, very well welcome by the audience, CD entitled "Polish Overtures and Concertos of the 20th and 21st Centuries" (2019) with the participation of Tomasz Strahl, conducted by Mirosław Błaszczyk, was filled by the Polish Music.
The Orchestra has performed on many concert stages and at numerous festivals in Poland and abroad: in Austria (Musikverein), China (National Grand Theatre), France (Grand Auditorium UNESCO, Palais de la Musique et des Congrès), Spain (Auditorio Nacional de Música), Germany (Konzerthaus), Portugal (Grande Auditório), Italy, Switzerland, Lithuania and Ukraine.
Since April 2009, the Orchestra has been a member of the European Federation of National Youth Orchestras, and since September 2018, the Polish Philharmonic Association. In 2013-2020 Krzysztof Penderecki was a honorary artistic patron of the Orchestra.
In 2018, the Orchestra celebrated its tenth anniversary of artistic activity, and during a concert at the National Philharmonic in Warsaw on October 8th, it officially adopted the name of Jerzy Semkow.