Magnus Holmander - NOSPR
Magnus Holmander
Clarinet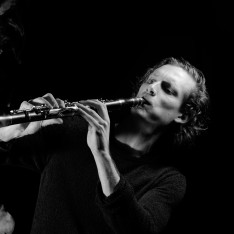 He is the musician who can make a music stand levitate and a clarinet to literally go up in smoke. Clarinetist Magnus Holmander has, through his unique combination of music and magic, created a very own niche in the classical music industry.
His career took off when Swedish superstar Martin Fröst, 2013, invited Magnus to participate as a clarinetist, dancer and magician in the show Dollhouse, which was played at a number of concert halls around the Nordic region. Magnus' experimental curiosity, both as a musician, artist and magician, has inspired many Swedish composers to write music dedicated to Magnus, including Andrea Tarrodi, Jacob Mülhrad, Benjamin Staern, Molly Kien, Klara Stirner and Ylva Fred. Magnus has also had numerous collaborations with composers such as Rolf Martinsson and Anders Hillborg.
Despite his young age Magnus Holmander has already performed in several of the largest concert halls in Europe such as Het Concertgebouw Amsterdam, Musikverein Vienna, Elbphilharmonie Hamburg, Royal Festival Hall London, Cité de la Musique Paris, Kölner Philharmonie Cologne, Palau de la Musica Barcelona, Festspielhaus Baden-Baden, BOZAR Brussels, Auditorium Milano and Müpa Budapest to name a few. In 2019 he was awarded Rising Star 2019-2020 by the European Concert Hall Organisation (ECHO) and the same year he was mentioned in the magazine Opus as one of the 20 most influential musicians in Sweden.
When Magnus is not performing as a soloist he enjoys performing with the outstanding accordion player Irina Serotyuk in duo Magnus & Irina as well as the brilliant pianist David Huang in duo Holmander & Huang.
Magnus Holmander did his bachelor and master studies at the Royal Collage of Music in Stockholm studying for Hermann Stefánsson and Emil Jonason.