Magdalena Duś - NOSPR
Magdalena Duś
Piano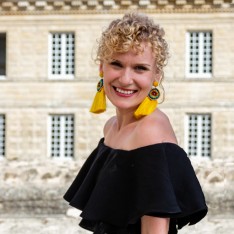 Pianist and chamber musician. She graduated with an honours degree from Hanna Kryjak's piano class at the Karol Szymanowski Academy of Music in Katowice, where she has taught a chamber music class since 2012.
She has won several dozen awards and distinctions as an accompanist, including the Individual Award of the Director of the Centre for Artistic Education for her unique contributions to artistic education in Poland. In 2017 she was an IPiUM Silesia artist-in-residence (as part of a programme implemented by the Institute of Music and Dance).
With saxophonist Bartłomiej Duś she plays in MagDuś duo, whose CD Malinconico came out in Germany under the Classic Clips label. The duo was awarded the 2nd prize in the 18th Lodz International Kiejstut Bacewicz Competition for Chamber Music (2013), as well as the 2nd prize in the "Salieri-Zinetti" International Chamber Music Competition in Verona (2014). It collaborates with composers on new music repertoire, which has led to the composition of such chamber music works as Wojciech Ziemowit Zych's Affective Trajectory, Przemysław Szczotka's Simbiosis, and Hanna Kulenty's Double Concerto "Aisthetikos" for saxophone, piano, and orchestra.
In 2015 she recorded (with clarinettist Arkadiusz Adamski and cellist Marcin Zdunik) an album of chamber music by Johannes Brahms, and in 2017 (with oboist David Walter) – chamber works of the Romantic era, arranged for oboe and piano (both released by DUX).