Lionel Sow - NOSPR
Lionel Sow
Artistic director of the nfm choir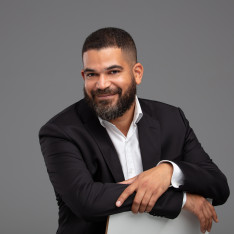 photo by Łukasz Rajchert
The 1977-born artist studied the violin, singing, harmony and counterpoint, Gregorian chant, as well as choir and orchestra conducting.
From 2006 to 2014, he was the artistic director of the Maîtrise Notre-Dame de Paris. Throughout all the seasons of his work at the Notre Dame cathedral, he performed great masterpieces of sacred music and significant pieces from the a cappella repertoire – from the Renaissance to contemporary music. He premiered works by such composers as Vincent Bouchot, Edith Canat de Chizy, Yves Castagnet, Thierry Escaich, Philippe Hersant, Caroline Marçot, Vincent Paulet, Michèle Reverdy, and others.
In 2011, Lionel Sow began his directorship at the Choeur de l'Orchestre de Paris. From 2012 to 2015, he established a choir academy, a chamber choir, a children's choir, and a youth choir there.
Throughout his career, he has performed at numerous international festivals and worked with outstanding conductors, such as Thomas Adès, Gustavo Dudamel, Leonardo García Alarcón, Daniel Harding, Pablo Heras-Casado, Paavo Järvi, Enrique Mazzola, Raphaël Pichon, François-Xavier Roth, Esa-Pekka Salonen, Simone Young, and others.
From 2017 to 2023, Lionel Sow taught choir conducting at the Conservatoire National Supérieur de Musique et de Danse in Lyon. In October 2021, he was appointed artistic director of the NFM Choir in Wrocław, and in September 2022 he became musical director at the French Radio Choir.
In 2011, Lionel Sow became Knight of the French Order of Arts and Letters.