Silesian String Quartet - NOSPR
Silesian String Quartet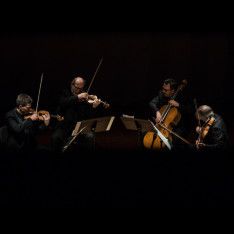 photo by Bartek Barczyk
Szymon Krzeszowiec – 1st violin
Arkadiusz Kubica – 2nd violin
Łukasz Syrnicki – viola
Piotr Janosik – cello
The Silesian String Quartet is one of the leading chamber ensembles in Poland. In its earliest years it honed its craft under the tutelage of members of such quartets as LaSalle, Amadeus, Juilliard, Smetana, and Alban Berg.
Today, the Silesian String Quartet enjoys international renown, performing on concert stages in the majority of European countries as well as in the USA, Canada, Mexico, Japan, China and South Korea. It has appeared in such prestigious venues as the Concertgebouw in Amsterdam, Konzerthaus in Vienna, De Singel in Antwerp, Schauspielhaus in Berlin, Tivoli in Copenhagen, Salle Pleyel in Paris, Carnegie Hall in New York, Jordan Hall in Boston, Hoam Art Hall in Seoul, and Palacio de Bellas Artes in Mexico City. The ensemble's repertoire draws on the masterpieces of the chamber music canon, with a strong focus on the works of contemporary composers.
The chamber musicians of Silesia boast a very rich discography. They have recorded music from many eras, with special emphasis on Polish music from the last three decades. Their recordings can be found on over 50 albums released on such labels as Chandos, ECM, EMI Poland, Olympia, CD Accord, and Radio Katowice. Six of them have been singled out for Fryderyk Awards of the Polish Phonographic Industry in the category of Best Chamber Music Album. Since 1993, the ensemble had organised the International Chamber Music Festival Silesian String Quartet and Guests, which in its past 25 editions has welcomed several dozen outstanding artists from Poland and abroad.
The Silesian String Quartet has also been the recipient of numerous prizes and distinctions, among the most important of which are the Gold Cross of Merit (1999), the Orpheus Award for the best performance of a piece by a Polish composer during the Warsaw Autumn Festival (2002), the Honorary Gold Badge for Services to the Silesia Province (2005), and the Medal for Merit to Culture – Gloria Artis (2008).