Kateřina Kněžíková - NOSPR
Kateřina Kněžíková
Soprano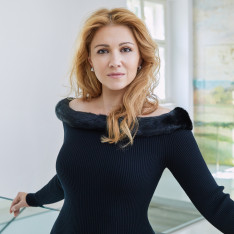 photo by Petr Weigl
One of the most prolific Czech operatic sopranos, Kateřina Kněžíková, has recently transformed into an internationally acclaimed performer of concert repertoire.
Her core symphonic repertoire includes Janáček's Glagolitic Mass, Dvořák's Requiem, Stabat Mater and Te Deum, Martinů's Epic of Gilgamesh, Mahler's symphonies (Nos. 2, 4, 8), Brahms' German Requiem, and works by Beethoven and Mozart. As a dedicated performer of orchestral songs, she is stunning in Mahler's Youth's Magic Horn, Strauss' Four Lasts Songs, Ravel's Shéherezade, Martinů's Magic Nights and songs by Duparc, to name the most prominent of roles. Her recitals featuring songs by Janáček, Dvořák, Martinů, Ravel, Debussy, Fauré, Strauss, Brahms, Liszt, Schubert, and Schumann have been praised by audiences and critics alike.
In 2021, she successfully performed the major role in Janáček's opera Káťa Kabanová at the prestigious Glyndebourne Opera Festival. The orchestras she has worked with as a soloist include the Mahler Chamber Orchestra, BBC Symphony Orchestra,Bamberger Symphoniker, Deutsches Symphonie-Orchester Berlin, London Philharmonic Orchestra,ORF Radio-Symphonieorchester Wien, Rotterdams Philharmonisch Orkest, hr-Sinfonieorchester Frankfurt, Camerata Salzburg, and Orquesta Filarmónica de Gran Canaria. She appears frequently with the Czech Philharmonic and other major orchestras in the Czech Republic. She has performed with renown conductors, including Jiří Bělohlávek, Manfred Honeck, John Nelson, Serge Baudo, Jakub Hrůša, Domingo Hindoyan, Robin Ticciati, Oksana Lyniv, James Gaffigan, and Tomáš Netopil.
As one of the most sought-after operatic sopranos in the Czech Republic, Kateřina Kněžíková appears regularly with all major opera houses locally and many houses abroad, including La Monnaie Brussels, Opéra Royal de Versailles, Opéra de Dijon, Slovak National Theatre and others. Since 2006, she has been a member of the National Theatre inPrague. She excels at Mozart (Susanna, Contessa, Donna Elvira, Pamina to name her most important roles), and is incomparable as Rusalka (Dvořák), Mařenka (Bartered Bride by Smetana), Káťa Kabanová (Janáček) and other operas by Martinů, Dvořák, Smetana, Gounod, and Bizet.
In 2021, she released her first solo album Phidylé on Supraphon label, which was named as Editor's Choice and The Best Classical Albums of 2021 in Gramophone Magazine. In 2022, album Phidylé won the prestigious BBC Magazine Music Awards in the "Vocal" category.
She also has recorded for Decca, Harmonia Mundi and Opus Arte.