Joanna Freszel - NOSPR
Joanna Freszel
Soprano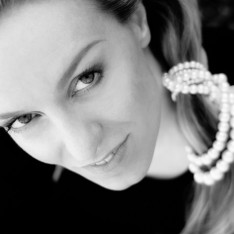 photo by Anna Konieczna-Purchała
Joanna Freszel graduated from the Vocal Studies and Song Department, Fryderyk Chopin University of Music, Warsaw, under Jadwiga Rappé. She has for many years given concerts with the best Polish chamber ensembles and symphony orchestras.
She has specialised in the interpretation of contemporary music, including works by G. Crumb, G. Ligeti, A. Pärt, R. Haubenstock-Ramati, and P. Mykietyn. Apart from most recent music, she has also successfully performed Baroque, Classical and Romantic repertoires.
She has sung as a guest artist at opera houses in Poland, Ireland, Estonia, Spain, and Italy, as well as appearing during well-known festivals (in Aix-en-Provence), on foreign tours (among others, presenting Lutosławski's Chantefleurs et chantefables) and gala events (the recital Frédéric Chopin and Franz Liszt at the UNESCO seat in Paris).
Joanna Freszel has received many prestigious awards and distinctions in vocal competitions in Poland and abroad. In 2017 she received the 'Polityka Passport' Award.