Jacob Lawrence - NOSPR
Jacob Lawrence
Tenor (emilio)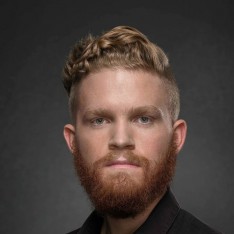 Jacob Lawrence's passion for singing started at the age of six, when he joined his father's choir at the Scots' Church in Melbourne, Australia. After appearing as a treble in several seasons with Opera Australia and undertaking concert tours in Australia and Europe with his parents, Jacob pursued studies at the Melbourne Conservatorium of Music graduating with honours in 2014. In 2016 he moved to Europe to study at the Schola Cantorum Basiliensis under the tutelage of Gerd Türk. Jacob was a prize-winner of the 2020 Cesti International Singing Competition, of the 2020 Bovicelli Competition and of the 10th edition of Le Jardin des Voixin 2021.
His operatic repertoire includes the title role in Monteverdi's l'Orfeo (Trigonale – Festival der Alten Musik 2019, Lamento project: Gare du Nord Basel/Schlosstheater Schwetzingen 2017), Ubaldo in Haydn's Armida (Pinchgut Opera 2016), Eumete/Giove in Monteverdi's Il Ritorno d'Ulisse in Patria (Pinchgut Opera 2019), Solato/Lucano/Liberto (Pinchgut Opera 2018), and Aeneas in Purcell's Dido and Aeneas (Royal Melbourne Philharmonic 2014).
He is a member of Vox Luminis, Profeti della Quinta, and Le Miroir de Musique, and has appeared with groups such as Huelgas Ensemble, Voces Suaves, Göttinger Barockorchester, Jerusalem Baroque Orchestra, and Bernvocal.
He has appeared as tenor soloist in Handel's Messiah, Bach's Mattäuspassion, Mass in B minor, Monteverdi's Vespers, Mozart's Krönungsmesse, as well as many of the cantatas of Bach, and has performed as Evangelist in Bach's Johannespassion to critical acclaim.