Izabela Wilga - NOSPR
Izabela Wilga
Piano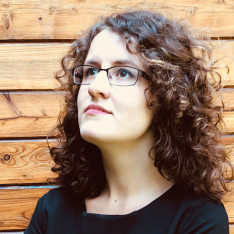 Izabela Wilga graduated with honors from the Fryderyk Chopin General Education Music School in Bytom in the piano class of Maria Wróbel-Zegalska. In 2013–2018, she studied in the piano class of Zbigniew Raubo and Piotr Banasik, DMA, and in the chamber music class of Grzegorz Biegas, with whom she continued postgraduate studies in 2018–2020.
She has also worked under the super-vision of such pianists as Andrzej Jasiński, Alexei Orlovetsky, Wojciech Kocyan, Piotr Sałajczyk, Witold Holtz, and Carlo Palese.
Her main focus is chamber music. She has taken part in many music festivals, e.g. the Sinfonia Varsovia Festival 'Summer at Grochowska Street,' 'Emanations', 'Violin Under the Sails', 'Music of Nations', 'Żywieckie Suwakowanie', the Karol Szymanowski Music Days, or the 31st International Festival of Young Winners of Music Competitions.