Hakan Demirel - NOSPR
Hakan Demirel
Architect/digital art installation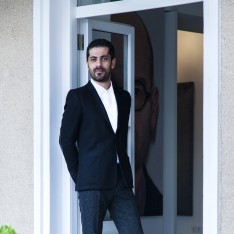 Hakan Demirel – architect (b. 1983, Malatya).
Throughout his career, Hakan Demirel has been awarded in national and international competitions and in 2011, was recognized by The European Centre for Architecture Art Design and Urban Studies, together with The Chicago Athenaeum: Museum of Architecture and Design, among the most successful "Europe 40 Under 40" architects. In 2014, he was awarded in two categories the 'Best Young Architect' in Turkey as well as 'The Golden Emerging Architects', given to five architects around the world by Architecture+Design & CERA Awards.
Hakan Demirel lived in New York between 2007 and 2008, upon his return he and Arif Suyabatmaz formed a partnership and established Suyabatmaz Demirel Architects, later coded as '19:4 Architects', based in Istanbul and Zurich.