Elida Almeida - NOSPR
Elida Almeida
Vocalist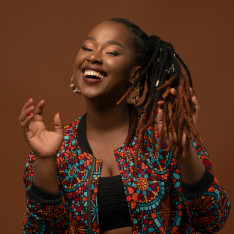 Elida Almeida is an artist of the younger generation, who has the chance to soon relate to the achievements of the most outstanding artists from the country that gave us the great Cesaria Evora. This country is spread over 10 islands and 16 smaller islets. Elida was born on one of the volcanic islands of Cape Verde.
Elida trained her voice while working at a local radio station in Santiago. There, one of her first compositions was written, which brought her fame - "Nta Konsigiui" (2.7 million views on YouTube). By the time she was spotted by José da Silva, a producer who worked with Cesaria Evora, she was performing at local concerts and bars in Cape Verde. Today Elida Almeida is already the author of 3 Longplay albums. Her remarkable warm, subtly swinging voice and compositions, in which indigenous batuque, funaná and morna rhythms can be heard, brought her media success and a prestigious RFI award in 2015.
Elida Almeida subsequently gained fame performing in Europe, Africa and North America. The young singer's dynamic and rocking style is significantly different from what we remember from Cesaria Evora's work, but brings the same delight. She also brings a poignant, sincerity-filled message and a voice that is captivating in its charm and emotion.
Her fiery temperament and joy of life, which she exudes during her live performances, while she is also able to express her musical feelings in nostalgic ballads - make Elida's concert a true uplifting and unforgettable experience. The artist successfully performed twice at the Siesta Festival in Gdansk, and these concerts were hailed as the best performances of the editions at the time.