Eleanor Lyons - NOSPR
Eleanor Lyons
Soprano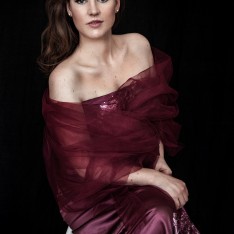 photo by Elisabeth Gattenburg
Australian soprano Eleanor Lyons, the first prize winner of the 9th International Elena Obraztsova Singing Competition in 2013, studied at the Sydney Conservatorium and later perfected herself at the Mariinsky Academy for Young Singers and the Royal Northern College of Music. Her teachers included Elena Obraztsova, Barry Ryan, and Victoria Dodoka. In 2018 she was awarded the Vienna State Opera Award by the Australian Opera Foundation for Young Singers.
She sang the role of Anne Truelove in Stravinsky's The Rake's Progress at the Hungarian State Opera, where she also starred as Mimì in Puccini's La bohème under the baton of Christian Badea. Further highlights from the last season include Verdi's Messa da Requiem and Britten's War Requiem with the Antwerp Symphony Orchestra conducted by Philippe Herreweghe. Eleanor Lyons further appeared in Britten's War Requiem with the Noord Nederlands Orkest conducted by Stefan Asbury. As part of the Grafenegg Academy she sang in Ernst Krenek's Der Diktator and Paul Hindemith's Mörder, Hoffnung der Frauen conducted by Leon Botstein. Particularly noteworthy is her role debut as Donna Anna in Mozart's Don Giovanni at the Sydney Opera House, hailed by critics and audiences alike.
As a sought-after concert singer, Eleanor Lyons has performed the soprano solo in Mahler's Symphony No. 4, Luciano Berio's Folk Songs with the Berlin Konzerthausorchester as well as Ravel's Chansons madécasses with the Budapest Festival Orchestra. With the latter, she also performed with chief conductor Iván Fischer as soloist in Mahler's Symphony No. 2, and with the Polish National Radio Symphony Orchestra in Katowice at their New Year's Eve Gala with Matthew Coorey conducting. With Mahler's Symphony No. 4 she also performed with the Noord Nederlands Orkest under Michal Nesterowicz. She furthermore appeared in Verdi's Messa da Requiem with the Antwerp Symphony Orchestra under Alejo Pérez and with the Sydney Symphony Orchestra as soloist in Das klagende Lied conducted by Simone Young. The Collegium Vocale Crete Senesi Festival in Asciano (Siena, Tuscany), founded by Philippe Herreweghe, featured Eleanor Lyons and her long-time piano partner Stanislav Solovev in a recital dedicated to Sergei Rachmaninoff and his contemporaries. In addition, the Australian soprano, who has been heard in several solo recitals in New York and Tokyo, gave her highly anticipated debut as a lied singer at the International Art Center deSingel in Antwerp.
In 2020, Eleanor Lyons would have given her debut at the Salzburg Festival as soloist in Beethoven's Missa solemnis under Philippe Herreweghe, under whose baton she would have also appeared on tour throughout Europe along with the Orchestre des Champs-Élysées and the Stavanger Symphony Orchestra. All these already scheduled engagements – besides Beethoven's Symphony No. 9 with the Belgium Chamber Orchestra, a scenic version of Schumann's Szenen aus Goethes Faust in Montpellier and a new production of Mozart's Così fan tutte in Antwerp and Ghent – have been canceled due to the worldwide outbreak of the COVID-19 pandemic for the most of the season.
In 2021/2022, Eleanor Lyons will continue her artistic relationship with Vlaamse Opera in Antwerp and Ghent starring as Mimì in Puccini's La bohème and Gretchen in Schumann's Szenen aus Goethes Faust coproduced with Montpellier. On the concert stage, she can be heard as a soloist in Beethoven's Christus am Ölberge under Philippe Herreweghe and with the Orchestre des Champs-Élysées in Linz, Katowice, and Essen.