David Lefèvre - NOSPR
David Lefèvre
Violin, guest concertmaster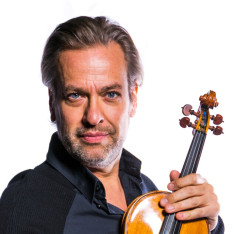 photo by Humberto Santos
David Lefèvre is establishing himself as a gifted and dynamic representative of the younger generation of current violinists, through his talent, passion and musical versatility.
After a First Prize with honors at the Montreal Conservatory of Music, he was among the very few performers to be awarded, for three consecutive years, the major scholarship from the Arts Council of Canada. This enabled him to further his studies at the Conservatoire National Supérieur de Musique et de Danse de Paris.
After winning the Yehudi Menuhin and George Cziffra Foundations Prizes and obtaining the Premier Grand Prix of Concours International de violon de Douai, he then embarked on his career as soloist: Orchestre national du Capitole de Toulouse, I Musici de Montréal, Orquestra Simfònica de les Illes Balears, Orquestra Gulbenkian, London Mozart Players and Orchestre Philharmonique de Monte-Carlo. Among the conductors with whom he has worked are Michel Plasson, Jonathan Darlington, Lawrence Foster, Marek Janowski, Peter Oundjian, Theodor Guschlbauer, Matthias Bamert, Gilbert Varga, Simone Young, and Jean-Claude Casadesus.
Chamber music is also part of his musical universe. His regular music partners include such renowned performers as Roland Pidoux, Patrice Fontanarosa, Marielle Nordmann, Bruno Rigutto, Anne Queffélec, Gary Hoffman, Régis Pasquier, Andrey Yaroshinsky and Nicholas Angelich.
He appears regularly at major festivals in France and abroad such as Festival de musique de Besançon Franche-Comté, Domaine Forget de Charlevoix, Festival de Lanaudière, Printemps des Arts de Monte-Carlo, Budapest Spring Festival…
While pursuing his career as a soloist and chamber musician, David Lefèvre was First Violin Soloist of Orchestre national du Capitole de Toulouse from 1993 to 1999. He is First Violin Guest Soloist of Orquestra Gulbenkian.
He was associate professor at Conservatoire National Supérieur de Musique et de Danse de Paris from 1996 to 2006.
His recordings, released by Solstice and Zig-Zag Territoires have unanimously been acclaimed by French and International critics. Particularly, his renderings of E.W. Korngold and R. Strauss's Violin and Piano Sonatas, B. Bartók's Sonata for Solo Violin or F. Schubert's The Trout Quintet were extremely well-received.
From 2008 to 2011, he collaborated with his brother, pianist Alain Lefèvre, with whom he performs regularly in recital both in Canada and in Europe. Their records are universally recognised and received numerous prizes such as: First Prize of Classical Album for the years 2009 and 2010 from the Gala of ADISQ (Quebec), prize for the best classical record 2010 from the JUNO Awards (Canada) as well as the prestigious prize of «Monthly CD» in September 2011 from the Musical Magazine Gramophone.
He has been artistic director of the Classicaval Music Festival in Val-d'Isère since 1996. Since 1999, he has been the First Violin Soloist of Orchestre Philharmonique de Monte-Carlo.
He currently plays a magnificent Dalla Costa's violin dating from 1745.