Dariusz Machej - NOSPR
Dariusz Machej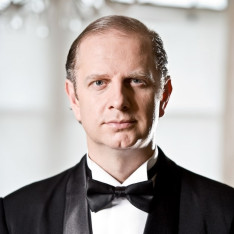 photo by Mirosław Pietruszyński
He participated in numerous music festivals, such as: Rossini Opera Festival (Pesaro), Festival de Musique de Strasbourg, Internationalen Maifestspiele (Wiesbaden), International Moniuszko Festival, Warsaw Autumn, and Wratislavia Cantans. He took part in the world premieres of Kurt Schwertsik's Katzelmacher and Zygmunt Krauze's Yvonne, The Princess of Burgundy.
Dariusz Machej has performed under the baton of many acclaimed conductors, including: Bassem Akiki, Kai Bumann, Massimiliano Caldi, Gabriel Chmura, Will Crutchfield, Johannes Debus, José Maria Florêncio, Patrick Fournillier, Hilary Griffiths, Chikara Imamura, Andrzej Knap, Alexander Liebreich, Carlo Montanaro, Marcin Nałęcz-Niesiołowski, Carlo Rizzi, Ruben Silva, Karen Schulze-Koops, Simon Standage, Tadeusz Strugała, Dirk Vermeulen, Antoni Wit, and Andriy Yurkevych.
He has worked with such renowned directors as: Eva Buchmann, Willy Decker, Beata Redo-Dobber, Agnieszka Glińska, Jerzy Gruza, André Heller-Lopes, Grzegorz Jarzyna, Janusz Józefowicz, Natalia Korczakowska, Constanze Kreusch, Giorgio Madia, Pier Luigi Pizzi, José Carlos Plaza, Emilio Sagi, Maria Sartova, Volker Schmalöer, Jitka Stokalska, Jerzy Stuhr, Mariusz Treliński, Krzysztof Warlikowski, Johannes Weigand, Marek Weiss, Barbara Wysocka, and Michał Znaniecki.
The artist also performs in oratorio and lieder repertoire, has taken part in numerous radio and television broadcasts and records extensively. His recording of Karol Szymanowski's Hagith won the Fryderyk 2020 Award.