Krakow Philharmonic Choir - NOSPR
Krakow Philharmonic Choir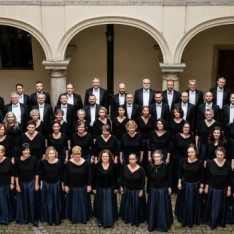 photo by Adam Golec
Mixed Choir of the Karol Szymanowski Philharmonic in Cracow started its activity in 1945, and in 1950 it received the status of a professional ensemble. In 1951 the Choir won the 1st award on the 1st Festival of Polish Music in Warsaw, and has been esteemed ever since, presenting a rich repertoire with oratorios and a cappella pieces, ranging from the 17th-century to contemporary music.
The choir consists of 85 artists. The choir participated in several famous Polish festivals (Vratislavia Cantans, Warsaw Autumn, Gaude Mater in Częstochowa) and festivals abroad (Festival de La-Chaise Dieu, Sagra Musicale Umbra, Maggio Musicale Fiorentino, Holland Festival, Edinburgh Festival, Flanders Festival, Biennale in Venice, Festival Gulbenkian de Musica, Festival Internazionale de Baalbeck, Festival van Vlaanderen, Festival de Lyon, Helsingfors Festspel-Helsinki Festival, Festiwal d'Art Sacré de Paris, Internazionales Brucknerfest Linz, Festival Internazionale di Roma, Festival Europäischer Musik, Eurofestival Religieuze Muziek Maastricht, Tamperen Savel Festival, Uluslararasi Istanbul Festivali, Athens Festival, Festival de Berlioz, Salzburger Festspiele). From its first to the seventh edition the choir was involved in the Ludwig van Beethoven Easter Festival.
During numerous tours abroad, the choir performed almost all over Europe and in Iran, Liban, Turkey, Canada, the USA and in countries of the former Soviet Union. The choir was the first Polish ensemble to perform in the Teatro alla Scala in Milan.
The choir accompanied many European orchestras, amongst others, Wiener Symphoniker, Beethovenhalleorchester, Orchestre Radiotelevision Belge, Orchestra Sinfonica della Radiotelevisione Italiana di Roma, Orchestra dell' Accademia Nazionale di Santa Cecilia di Roma, Orchestra dell' Emilia-Romagna 'Arturo Toscanini' Parma, Orchestra Sinfonica Siciliana di Palermo, Stadtkapelle Dresden, Rundfunksinfonieorchester Berlin, Rotterdams Philharmonisch Orkest, Orchestre Philharmonique du Montpelier, Stockholm Philharmonic Orchestra, Limburg Symphonie Orkest Maastricht.
The Philharmonic's choir participated in great international events, such as celebration of the 10th anniversary of the pontificate of John Paul II and also in his Canonization Mass in Vatican (27th April 2014), concert in Berlin on the occasion of the Reunification of Germany in 1995 (War Requiem by Benjamin Britten) and celebration of the 50th anniversary of the liberation of the Auschwitz-Birkenau concentration camp in 1995.
In 2004 along with the Ankara State Polyphonic Choir, London Philharmonic Choir and Mendelssohn Choir of Pittsburgh with Pittsburgh Symphony Orchestra, the choir took part in the Concert of Reconciliation in Vatican.
The Cracow Philharmonic Choir, specializing in performing monumental oratorios, has also had operas in its repertoire, such as Don Giovanni by W.A. Mozart, La Pulzella d'Orleans by P. Tchaikovsky (directed by Lamberto Puggelli, Teatro Massimo Palermo, 2003), Lohengrin by R. Wagner (directed by Luca Ronconi, Teatro del Maggio Musicale Fiorentino, 1999), The Freeshooter by C.M. Weber, K. Penderecki's Black Mask; E. Grieg's Peer Gynt (music to H. Ibsen's drama); the world's most beautiful opera choirs; and popular works: Missa Criolla by A. Ramirez, Liverpool Oratorio by P. McCartney, Requiem by A.L. Webber, Trionfi by C. Orff, or Alexander Nevsky by S. Prokofiev.
The Choir contributed to popularize Penderecki's music, especially his Matins and Lucas Passion; the recording of the latter was awarded with Grand Prix du Disque.
Other successful recordings of the Choir are those of W. Kilar's music. The recording of compositions by W. Kilar: Krzesany, Angelus, Victoria – was nominated to a prestigious Fryderyk award in 1997. The choir participated in recording of Kilar's music for the movie soundtrack to Dracula by F. Coppola and A King for Burning by T. Toelle.
A perfect performance of the musically and linguistically difficult Matins by K. Penderecki is the flagship of the choir, proud of its long collaboration with this famous modern composer. A precious token of this co-operation is the dedication to the Cracow Philharmonic Choir that has been placed in the first edition of Penderecki's Stabat Mater.
For many years the choir has received approval of audience, reviewers and conductors. Numerous tours abroad granted the choir an opinion of the 'ambassador of Polish culture'.