Alina Kantorska-Biegun - NOSPR
Alina Kantorska-Biegun
Managing director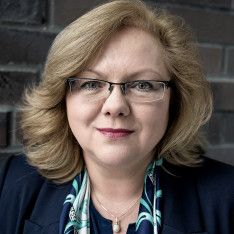 Born June 26, 1961 in Warsaw, Alina Kantorska-Biegun is a graduate of German studies, Faculty of Modern Languages, at the University of Warsaw.
In 1984, she started working for the Pagart Polish Artistic Agency, in the Bureau for Classical Music, where she was entrusted with the organisation of concerts and worked with conductors from Poland and abroad. During her Pagart years (1984–1992), as a manager, she travelled around the world with the majority of Polish symphony orchestras and theatre and opera ensembles.
In the years 1994–2002, she worked as a promotion specialist for the Karol Szymanowski Philharmonic in Kraków, where she also organised international tours of the orchestra.
In the years 1996–2000, she collaborated with the Festival Bureau Kraków 2000 in the organisation of the first editions of the Easter Ludwig van Beethoven Festival and of many other Kraków 2000 events, such as Nigel Kennedy's concerts. She also cooperated with the Kraków Opera, where she was responsible for the organisation and guidance of international tours.
In January 2003, she took up the post of Managing Director of the NOSPR in Katowice; since 2014, she is also Executive Director of the Katowice Kultura Natura Festival.